Fear often begins as a twitch in your mind saying you need to think about "xxx," becomes a worry about "xxx," steps up to anxious, and finally it becomes fear with a full rush of adrenaline that insists that you deal with it. The time it takes for this full run might be weeks or an hour. This is the fear of anticipation of an event that will happen or one you imagine might happen. Internal results are the same. It becomes real in our minds. It can be something external or an internal barrier on the way to a dream.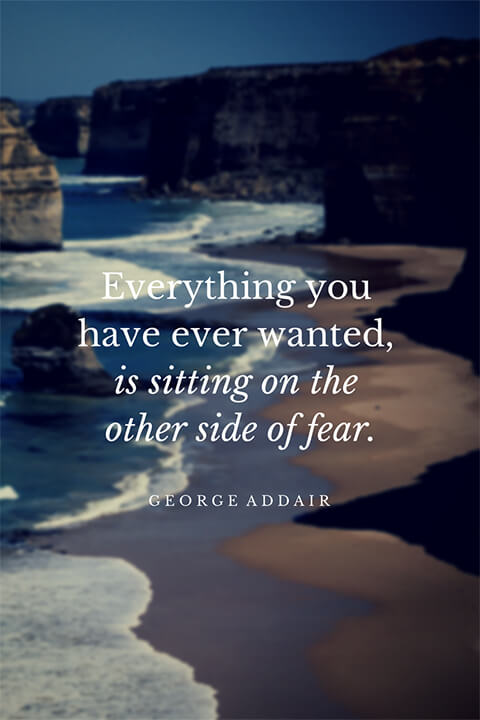 My management techniques include:
Locate the fear in your body, using a meditation that allows it to have a voice and respond, and with your breath release it and let it go. I like to breathe right through the fear location.
Meditation…I love Metta Phrases for this and suggest the beautiful book Loving-Kindness. Over the years I have modified the author's phrases to my own around the same idea.
Exercise doing something that takes your complete concentration and releases the tension from your body.
Go out…be in nature, do something with friends to clear your mind for a different perspective.
Analyze possible paths out of the situation…bubble diagrams, lists, a flow diagram, best outcome and worst outcome scenarios. I always include "What is the worst thing that could happen? Will I Still Be Alive?" Helps put perspective on the situation!
Look for valid input from experts. Perhaps your assumptions are incorrect. How real is this fear?
Map out the most desirable path from all of the above to achieve the best outcome and identify money, time, and resources required.
Create a timeline with your reasonable path and develop each tiny step. When the BIG thing is broken down to things we know we can do, it seems more manageable.
Take step 1…are you still alive? Celebrate!
Congratulate yourself for growing your Comfort Zone. It's worth it…the next encounter will be easier!
How do you manage fear? Share your most useful technique below. We will all benefit from more ways to deal with those moments…or longer…in our lives. Thanks!