Help Your Clients Find The Body They Used To Live In



Training For Wellness Practitioners, Trainers, and Fitness Coaches
by Pat Henry, Founder of Organic Stretching®

How do you feel at the end of a full day? Is your body tired and burned-out trying to help everyone else feel great? How would you like to help others and yourself at the same time?
Do something wonderful for you and your clients as an Organic Stretching Qualified Coach. This program may be the opportunity you are looking for to inspire your clients and boost your business with something truly different.
Organic Stretching's gentle movement system offers the ideal complement to give you a well-rounded practice or studio line-up. It answers the needs of potential clients looking for a genuinely alternative approach, something completely different, that will inspire them to build a personal program that is uniquely theirs, suited to their bodies where they are today.
Following the Organic Stretching Seven Steps process created by Founder, Pat Henry, they will thank you for helping them find the body they used to live and
restore their flexibility,
reduce their pain,
improve their balance and
develop a practice to keep them fit and moving for the rest of their lives.
Let Pat's Organic Stretching students tell you how it worked for them…and while you are there, enjoy the natural sound effects from her tropical, Mexican studio…the same studio we will be using for this workshop!!
Join Pat Henry and your fellow trainees, January 13 – 17, 2014, at her studio in La Cruz de Huanacaxtle, Mexico, near Puerto Vallarta, on the Bay of Banderas. This will be your first step toward certification in a unique and exciting program, providing something truly different and highly effective to your clients.
This workshop was fantastic! Pat goes all out to meet the needs of her students. The setting is beautiful- a garden paradise with hummingbirds and colorful flowers set the background for the inviting studio. It was so sweet to sit under an outdoor palapa for lectures. Pat's classes thoroughly prepare you to understand the principles of OS, explore your personal work, and practice leading other students through the movements and principles. You will learn inspirational ways to develop a business that comes from your heart and come away with a deeper understanding of how we can help our bodies heal. –Tamara M

Organic Stretching Teacher's Training gave me a new direction in life. It felt that the class helped me to create a flowing and more organic living in every area of my life. My whole body was like new after the 5 days course. I feel this is the new revolutionary wellness technique which I would love to help to bring to the world. I also think it is important that young people start to take care of their bodies as early as possible, then there will be no health problems later in life. It adds to the quality of life. I recommend the regular classes and the teachers training to everyone who is ready to have fun and explore their own bodies, like little children do, and improve their health as a result. Thank you Pat and everyone who participated. It was amazing! –Crystal RL
SIGN-UP BELOW TODAY!!
for your space and the best price…
save $100



EARLY SIGN-UP BONUS…first person to register and pay the deposit
by December 1 and final payment by December 15…
Private 1-hour consultation!
THE COURSE

CONTENT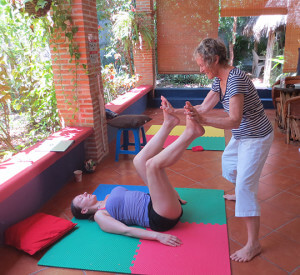 Active work
Varied approaches to the elements of the Seven Steps
Developing and refining a personal program
Leading practice and critique
Lecture and discussion

Historical review of movement in the healing arts
The connective tissue system: elements, character, functions, structure, maintenance
Overview of bioenergetics work and its role in health restoration and maintenance
Curriculum development and class structure
Precuations in class work
Creating a business model for success
Syllabus of material, bibliography, references for continued research and development
STRUCTURE AND SCHEDULE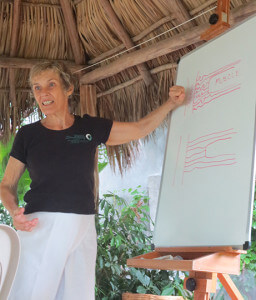 Daily schedule: (30 hours total over five days)
9:30am…Active work–personal work
10:30am…Lecture and discussion
12:30pm…Break for lunch and relaxation (restaurants are nearby, or bring your lunch and curl up in a hammock)
2:30pm…Active work–focus on the elements
3:30pm…Lecture and discussion
4:30pm…Active work–practice leading
5:30pm…End of classes–relax and enjoy La Cruz
SIX-MONTH FOLLOW-UP LEADING TO CERTIFICATION
Six months of personal work (daily, if possible) documented by journaling observations and results. Journals to be submitted monthly (my eyes only).
Six live, on-line Q&A sessions with a topic focus…one per month via Google+ Hangouts
One or two short assignments per month
Written exam (essay) in July to demonstrate overall understanding of the system and its implications
A final demonstration of leading via Google+ Hangouts
CERTIFICATION
After completing the above follow-up work, successful applicants will receive certification from Pat Henry to teach live, in-person classes and basic workshops in Organic Stretching®.
Professional recognition for Organic Stretching and Pat Henry

"…a dynamically exploratory invitation to sculpt your own yoga and to develop the strength and flexibility that are unique to you.  Well thought-out and innovative examples of stretching movements are, of course, presented (with aesthetic beauty, I would add), rich ideas for getting started in the evolving of your own personal practice.  But more importantly than that, Pat's purpose is to lead you beyond the imitation of asanas and protocols, into an organic unfolding of your own body's needs and capacities and your own individualized path to vitality.  Very like Trungpa's groundbreaking Cutting Through Spiritual Materialism in spirit and intention, "Organic Stretching" cuts through imitative discipline and opens the door to the celebration of your own idiosyncratic being and its expression–like no other's–in your own joy of movement and self-development."                                 

–Deane Juhan… Author of Job's Body: A Handbook for Bodywork
REGISTRATION AND ADVANCE PREPARATION
Registration is now open for the first five applicants to the teacher-training program for January 13 – 17, 2014. To secure a place in the course requires a $200US deposit paid with registration.
It is advisable to prepare as much as possible before the course. This will enable the group to achieve the highest level of mastery of the material. If you have never done Organic Stretching® before, a minimum of ten hours of class time is required through a workshop, studio classes or online private classes.
It will help to download or order the video and begin to work on a personal practice. You will receive credit for the price against the course fees. Request the supporting documentation to enable your practice.
There is a workshop in Puerto Vallarta the weekend preceding this training course. Regular classes are taught on Monday and Thursday, at 9:30 and 11:00am, every week, and they will begin on December 2, 2013, consult the calendar. Online private classes are available.
You will receive references for some advance reading on connective tissue and energy medicine; this will allow the lecture/discussion sessions to be much richer…to everyone's benefit.
ONLY 5 SPACES! SECURE YOURS NOW! BEFORE DEC 1 FOR THE BEST PRICE
AND A CHANCE FOR THE BONUS PRIVATE CONSULTATION IF YOU ARE FIRST!!
BRING A BUDDY: To encourage your maximum success in developing your personal program, as it supports and shapes your professional program, you are encouraged to consider coming with a buddy. It will enrich your experience and provide support when the program is finished and you have returned home.
There is a special discount for you and your buddy of $50 each off the total cost.

COST, PAYMENT AND CANCELLATION
Pay deposit by December 1 and the balance by December 15
First payment to secure place in course                $200
Final payment                                                                675
Total for 30 hour course…………………………………………..$875
Pay deposit by December 13 and the balance by December 27
First payment to secure place in course               $200
Final payment                                                               775
Total for 30 hour course………………………………………….$975
Complete your registration and pay here…

Cancellation before December 28 will retain $100 and refund balance. Cancellation between December 28 and January 6 will refund 50%, and $300 will be credited toward a future program. No cancellation after January 6. In the event of an emergency, every effort will be made to fill your space with another student, which may allow a credit of up to $700 toward a future program.
For those desiring certification…$500 (Due March 1) includes:
6-month Q&A sessions and support
Exam
Certification (if successful)
First year's active status fee
Thereafter:
Annual active status fee (Year 2 and beyond, subject to change)…$500US (Due July 1, 2015)
ACTIVE CERTIFIED PRACTITIONER'S BENEFITS (requires current fee account)
Certification renewal
Monthly support Q&A/support sessions
Listing with a direct link and referrals on the OS blog and FB page
Wholesale pricing for video resale
Graphics for display, logo, cards, flyers, body forms, guides for Seven Steps and Developing a Solo Practice
Follow-up referrals from on-line course participants
Business support for marketing, sales, products, retention, tracking, and promotion
Future plans for an annual retreat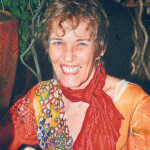 Pat Henry, founder of Organic Stretching®, inspires people to explore and develop their own gentle alternative movement program–one that is uniquely theirs, suited to their bodies where they are today, so they can increase their flexibility, improve their ability to avoid injury, manage their own pain, and reconnect to their own body's power and wisdom for healing.
She has been teaching classes since 2007 and in 2009 moved her studio to a small fishing village north of Puerto Vallarta, Mexico, on Banderas Bay. She teaches workshops in the US and Mexico. Her greatest joy has been watching each individual breakthrough for students from 30 to 85.
In 1997, Pat became the first American woman to sail alone around the world via the canals. Her professional credentials include: architect, professor, navigator/captain, entrepreneur, artist, and author. At 73, she is a model of inspiration for staying young in body, mind, and spirit. Her motto: If you can dream it, you can do it.
More information: Organic Stretching® see Pat's blog. To contact Pat by phone 329-295-5289 (in Mexico) or 210-399-7214 from the US, by email, or by Facebook.
Photo credits: Crystal Ra Laksmi
PRECAUTION; Organic Stretching® is a very gentle system and designed to leave you in control of how far you go in your movements.  If you have any health issues and are concerned, please discuss it with your doctor or other health professional.  Invite them to look at our blog on the web: www.organicstretching.com. This is a relatively new system, and they may not be familiar with it.
DISCLAIMER: The information taught in our classes is not intended to be a substitute for professional medical advice. The information provided is for educational purposes only and is not intended as diagnosis, treatment, or prescription of any kind. You should not use this information to diagnose or treat a health problem or disease without consulting with your physician or other qualified health professional before adopting or changing any exercise regimen. The decision to use, or not to use, any information is the sole responsibility of the student.