Three Ways Life at Sea Contributes to Back Pain for Long-Distance Cruising Sailors
Sign up for this FREE Class with Pat Henry, Founder of Organic Stretching®: bodymind movements and Solo Circumnavigator
When: February 16, 2016, 4:00 – 5:30pm

Where: VIP Lounge, Riviera Nayarit Marina, La Cruz de Huanacaxtle

Register early to save your space!
Explore the ways you can deal with these three primary contributors to your back pain to improve your blue water adventure and the new life on which you have embarked. Experience some of the painless, simple bodymind movements, perfectly suited to your small, mobile environment.
And Coming February 18 – 19: the solution
…
The Onboard Self-Care System for Creating a Happy Back
A 6-Hour Workshop…

presenting a solution that is inexpensive, easy to learn, do-it-yourself, and painless. Organic Stretching®: bodymind movements is a familiar name in this area. I started the program here eight years ago from my training and certification in the Wallace Method of pain management therapy. Here are some of the reasons it is so effective.
Organic Stretching®: bodymind movements are painless. You are in control of how far you move and the level of energy you exert in each movement. You never go past your limit.
Organic Stretching®: bodymind movements are easy. There are no poses or positions to memorize. Your body creates the movements it needs.
Organic Stretching®: bodymind movements are designed to release restrictions in your connective tissue system, not to build muscles. Those restrictions are the source of most pain (that is not from a disease).
Organic Stretching®: bodymind movements work best when done slowly. Slow movements give the body time to adapt to the new ability to move as restrictions "melt."
Organic Stretching®: bodymind movements are not competitive. You are not racing each other or trying to go farther. You are only centered on moving as your body leads to make changes inside and to increase your awareness of those changes as they happen.
These movements will help you by…
Expanding your limits and range of motion
Helping you move with confidence and balance
Releasing tension and managing stressful events
Conserving energy
Developing body awareness and freedom for emergency movements
Gaining techniques for managing some classes of pain and injury
Here is how to begin solving your onboard back problems…
Signup below for this Workshop with Founder Pat Henry.
Learn the techniques that create the moves
Follow Pat to build a body memory for the movements
Learn how to move slowly with attention
Practice listening to your own body
Create your own movements
Develop a program that is uniquely yours to use for the rest of your life
Through building awareness from the inside out, we connect with the places that are holding us back and gradually soften the restrictions and blocks, gently and deeply, bringing back a freedom of movement we never expected to see again.
Comments on this program…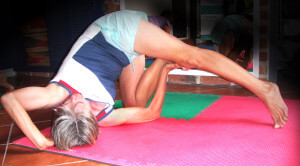 It has given me the confidence to do something good for my body, (and my mind), that I would not otherwise have done, for fear of hurting myself. I love the free form of the program, nothing to memorize, just improvisational movements.
–Anne Saunders Mott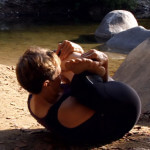 If I knew then what I know now, my around-the-world solo voyage would have been quite different. Injuries might have been reduced and they certainly would have healed more quickly. My balance would have been better, also my agility and my resilience.
–Pat Henry
After more than six years doing Organic Stretching®: bodymind movements, I have found many ways it helps my body. Last night, I was walking on a bad surface in high-heeled shoes when my heel went down in a hole, and my ankle twisted sharply. The pain was instant and intense. I could not take a step, but after a few minutes of making Organic Stretching movements, I found my ankle could support me again. Because I did the work right away, whatever had slipped out of place was able to move back without leaving long-lasting damage. It was not the first time in my life that this has happened, but this time the end result was totally different. Ten minutes after the accident I was walking away on my high heels with absolutely no pain! It is my own First Aid tool.  

—Andrea Kast
Join this six-hour adventure…
with Organic Stretching®: bodymind movements, designed to inspire you to find the body you used to live in…when you could count on it to be there whatever you wanted to do…with balance, flexibility, and a pain free back. The full Organic Stretching system covers 19 movements in 7 steps. We will learn and practice the first third of the full program in this Workshop.
Workshop Content:
Six hours of instruction and practice in movements, techniques, and philosophy of Organic Stretching by Founder Pat Henry

Body training by following the movements

Mind training by working solo

How to use the movements for First Aid
Included for continued support:
The DVD Organic Stretching®: The Principles and Movements ($37.50 value)

The Guide to Organic Stretching® Seven Steps

The Guide to Developing a Personal Practice
The Workshop
Thursday, February 18, 2:00 – 5:00pm

Friday, February 19, 2:00 – 5:00pm
Octopus Garden, Coral 66A, La Cruz de Huanacaxtle, Nayarit

A beginning level class where all are welcome…
any age and any condition. There is no competition!
Bring…
Your water bottle and yoga mat. Sox if your feet get cold. Dress as you would for a tai chi class…loose and comfortable.
Prices:
Value per individual: $125.50
Full price: $105 (beginning Feb 14)

Early bird discount

10%

:

$94.50 (until midnight Feb 13)

Partners price:

$160 for two people on the same boat (one video)

Returning student's*

Welcome back price

: $85 (does not include a DVD)
*If you have attended a previous workshop or have been a regular student in an OS Studio series, this price applies to you.
(Offers cannot be combined)
CANCELLATIONS:
$20 cancellation fee before February 11. Then 30% of paid fees February 11 through February 16. No refunds after February 16, 2016.

Workshops are generally scheduled in the Spring in La Cruz de Huanacaxtle, on the West Coast of Mexico, when the temporary cruising community is preparing for their departures. This workshop is available for other communities by arrangement; contact Pat.
Photo credit: Lynn on S/V La Vita