On Foot in Puerto Vallarta and how are your knees?
You live in paradise, but your knees may not think so!
Between long stairways, high curbs, irregular surfaces, stairs without handrails, high steps in and out of buses, your knees may be challenged when you go out on foot to enjoy Puerto Vallarta. Maybe you don't feel as flexible, balanced, and body confident as you used to. Maybe you have stopped going places and participating in things because it is too difficult or painful to get there.
What are your options?
Take a taxi (expensive)
Get shots to block the pain (potential side effects, limited number you can have, only treats the symptoms)
Take pills (side effects, expensive, only treats the symptoms)
Use a cane (only a partial solution for most, difficult on rough surfaces)
Avoid the most difficult areas (a partial solution)
Stay home (not a solution if your goal is to have access to activities, places, and friends)
Wait for surgery (expensive, time for recovery and rehabilitation, painful)
None of these really give you back the flexibility, balance, and body confidence you have lost. They don't really eliminate the source of the pain and the time lost from enjoying life fully. The underlying problems inside are still the same.
The solution…
One that is inexpensive, easy to learn, do-it-yourself, and painless.
Organic Stretching®: bodymind movements.  You've probably seen the name in publications and on the internet in Puerto Vallarta. I started the program here eight years ago. But this is just another exercise program like all the rest, right? I hate to exercise and it hasn't done anything for my knees anyway.
Wrong.  Organic Stretching was developed from my training and certification in the Wallace Method of pain management therapy. Here are some of the reasons it is so effective.
Organic Stretching®: bodymind movements are painless. You are in control of how far you move and the level of energy you exert in each movement. You never go past your limit.
Organic Stretching®: bodymind movements are easy. There are no poses or positions to memorize. Your body creates the movements it needs.
Organic Stretching®: bodymind movements are designed to release restrictions in your connective tissue system, not to build muscles. Those restrictions are the source of most pain (that is not from a disease).
Organic Stretching®: bodymind movements work best when done slowly. Slow movements give the body time to adapt to the new ability to move as restrictions "melt."
Organic Stretching®: bodymind movements are not competitive. You are not racing each other or trying to go farther. You are only centered on moving as your body leads to make changes inside and to increase your awareness of those changes as they happen.
Here is how to begin solving your knee issues
Signup for this Weekend Workshop with Founder Pat Henry.
Learn the techniques that create the moves
Follow Pat to build a body memory for the movements
Learn how to move slowly with attention
Practice listening to your own body
Create your own movements
Take home a program that is uniquely yours to use for the rest of your life
Through building awareness from the inside out, we connect with the places that are holding us back and gradually soften the restrictions and blocks, gently and deeply, bringing back a freedom of movement we never expected to see again.
What do other students say about their Weekend Workshop experience…
Organic Stretching is the Fountain of Youth for your physical body—a precious gift for you to discover and to cherish for the rest of your life.  Forever grateful to you, Pat, for giving me back the access to my flexibility.

–Bertrand Boudreau, Founder Angels to Angels in Puerto Vallarta
…the wonderful feeling of getting so in touch with my body."

—Tamara Myers in Santa Cruz, CA
Pat!!!  You have wonderful personal energy, the pacing of activity and information sharing was excellent. I loved the idea of presenting principles rather than strict following of pose. The content was simple and at the same time offered excellent guidelines for deeper practice. Sometimes we just need permission to reconnect with the universe of our own bodies…

–Peg Toliver in Bloomington, IL
Join this ten-hour adventure in Puerto Vallarta…
with Organic Stretching®: bodymind movements, designed to inspire you to find the body you used to live in…when you could count on it to be there whatever you wanted to do…with balance, flexibility, and pain free knees.
The full Organic Stretching system covers 19 movements in 7 steps. We will learn and practice the first half of the full program in this Weekend Workshop.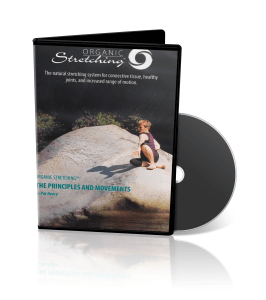 Included:
Ten hours of instruction by Pat Henry, Founder of Organic Stretching

The DVD Organic Stretching®: The Principles and Movements ($37.50 value)

The Guide to Organic Stretching® Seven Steps

The Guide to Developing a Personal Practice
A Free Introductory Class
Try some of the moves, see what it feels like, ask questions, and meet Pat Henry
Wednesday, January 6, 4:00 – 5:30pm
Inkarri Vallarta, Blvd. Francisco Medina Ascencio 1768 2nd Floor, (across from Mega), Hotel Zone, Puerto Vallarta, Jalisco, Mexico
The Workshop
Friday, January 15, 4:00 – 6:00pm

Saturday, January 16, 10:00 – 12:00 and 1:30 – 3:30pm

Sunday, January 17, 10:00 – 12:00 and 1:30 – 3:30pm
Inkarri Vallarta, Blvd. Francisco Medina Ascencio 1768 top Floor, (across from Mega & above Moviestar), Hotel Zone, Puerto Vallarta, Jalisco, Mexico
A beginning level class where all are welcome…
any age and any condition. There is no competition!
Bring…
Your water bottle and mat. Sox if your feet get cold.
Lunch
: There are restaurants nearby (100% Natural and others), but bring a lunch if you wish. Dress as you would for a tai chi class…loose and comfortable.
Come with a Friend and Save!!
(Partner work is optional)
Prices:
Full price: $140 (beginning Jan 12)

Early bird discount 10%:

$126 (until midnight Jan 11)

Buddy discount 15%

: $238 for two people

Returning students

Welcome back price

: $105 (does not include a DVD)
(Offers cannot be combined)
CANCELLATIONS:
$20 cancellation fee before January 8. Then 30% of paid fees January 8 through January 13. No refunds after January 13, 2016.